The components of the LED module are small and light, and impacts will not affect them. LED lights do not contain a filament or any glass, which makes them an extremely durable light source.

A LED light has a lifespan of tens of thousands of hours, more than 35,000 hours, even in rough conditions at construction sites – this equals several years…

MBerg® lights are designed so that they can be stacked on top of each other. One pallet has room for over 100 lights. The quantities are easy to check at a glance, which makes them easy to count when you need to deliver or return them.

Since MBerg® lights withstand tough handling, impacts and vibrations, after transportation, all you need to do is begin installing them. All the lights are immediately ready to use without replacing bulbs or any tests.
The 230 V model has a 16 A plug, which is designed to be used for daisy chaining MBerg lights. The daisy chaining of lights provides a good, even general lighting for the construction site.

The energy consumption of the lights is only 21–24 W, depending on the model: they use up to 70% less energy than fluorescent lamps. In addition to low energy costs, the smaller cross-sections of cables and smaller power switchboards bring savings, too.

The LED module is very durable and has such a long lifespan that you do not have to replace bulbs. You can forget about expensive and time-consuming bulb replacements and maintenance work while safety at the construction site will be improved.

MBerg light does not heat up and, therefore, does not pose a risk of fire, even if it tips over or falls down. The lights are made of a special self-extinguishing plastic, which means that they are not electrically conductive.

Since MBerg light does not heat up like halogen lamps or other light sources, they can be safely protected from paint and other splashes with a protective bag.
MBerg® 48 V construction site light
A low voltage (SELV) LED light for construction sites to be used together with Valmu 48V transformer. Reliable and safe lighting system.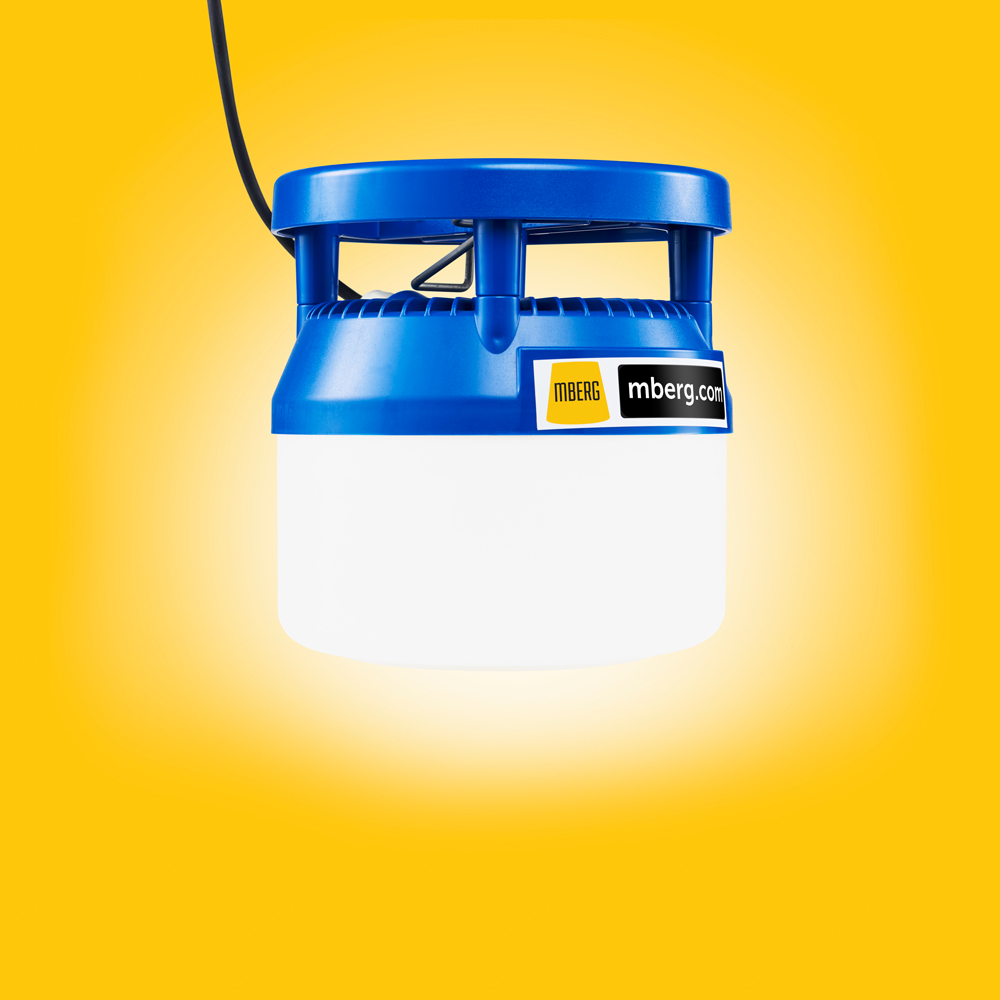 Colour temperature
5,000 K
Connection cable
2 x 1.5 mm2
Connection cable length
1.5 m
Measurements
19 x 21 x 21 cm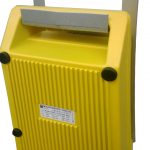 Transformer VALMU 1500 VA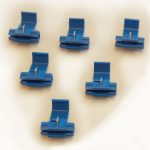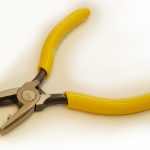 MBerg® 48 V with battery back up
A LED light that in normal conditions works just like standard 48V MBerg but during power failure switches automatically to battery use.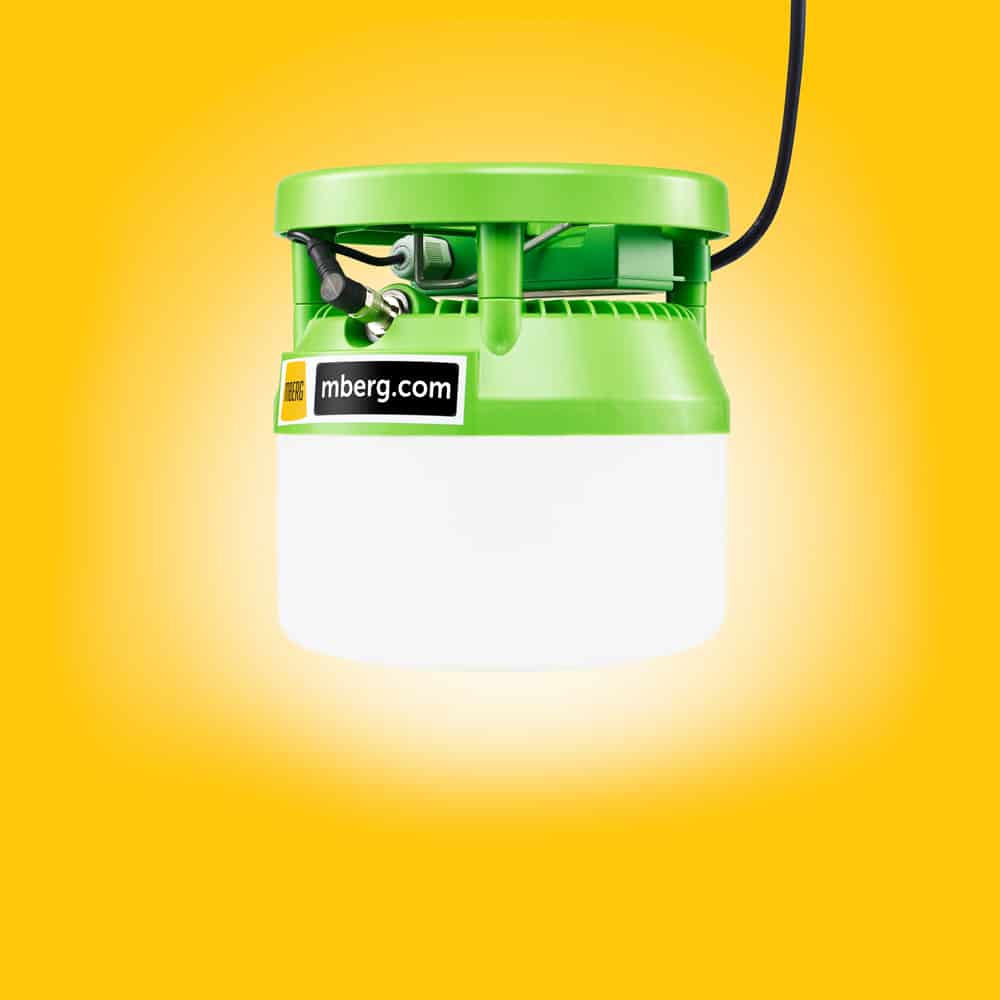 Colour temperature
5,000 K
Battery
2,600 mAh Lithium
Battery operation time
30 + 30 min
Measurements
19 x 21 x 21 cm

   MBerg® 48 V construction site light
Voltage
220-240 VAC 50 Hz
Colour temperature
5,000 K
Connection cable
3 x 1.5 mm2 H07RN-F
Connection cable length
6 m
Measurements
22 x 21 x 21 cm
Valmu Lightning transformer 1500 VA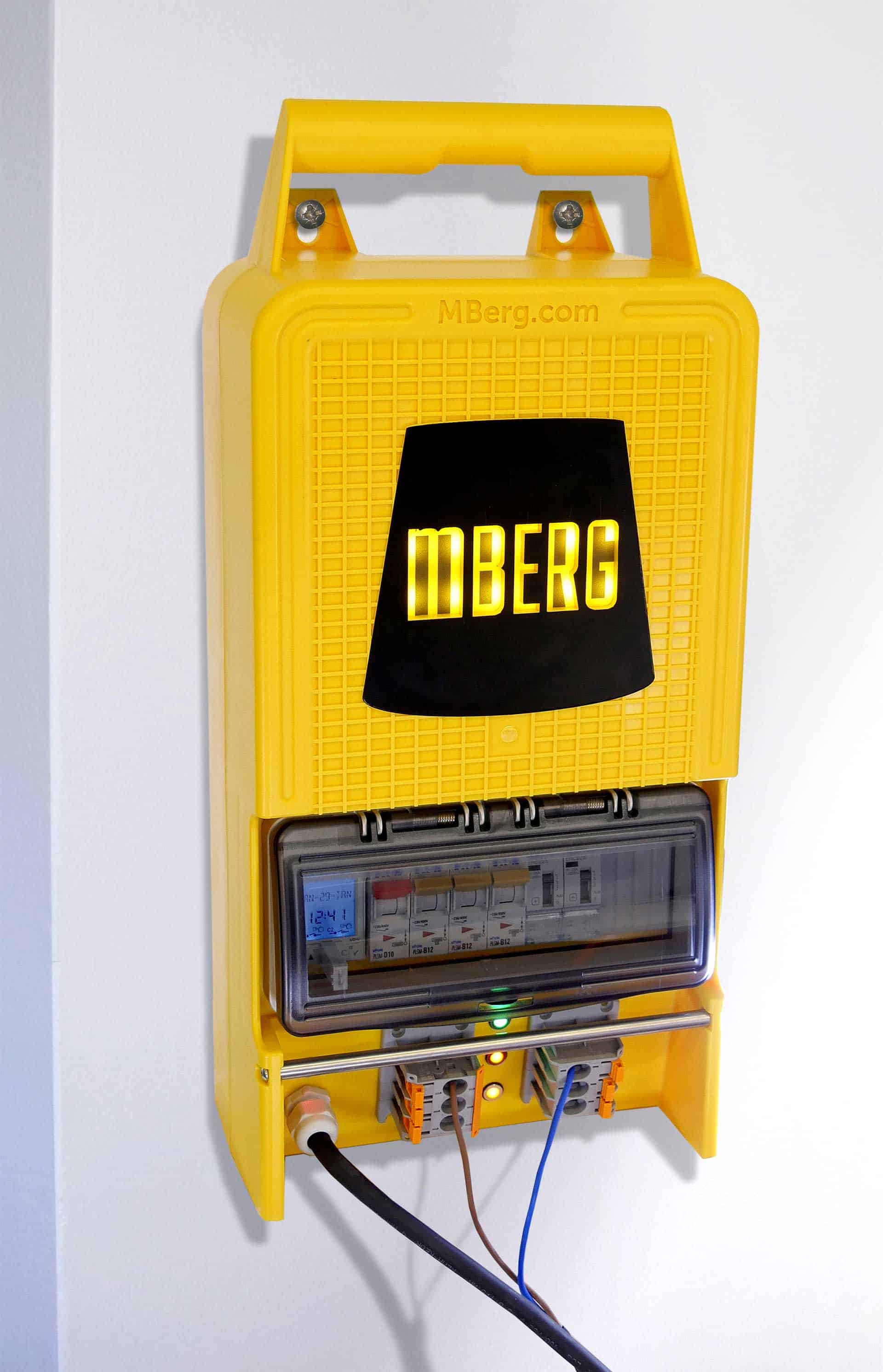 48 V AC lightning transformer to MBerg® lightning system
Lightweight and easy to operate, superior power/weight ratio
Can be attached straight to a wall
2 circuits á 25 lights so it is possible to attach 50 MBerg lights to transformer
Each circuit has its own fuse and signal light
Main switch with signal light
Transformer is easy to notice, even in the dark
Bluetooth timer as accessory (sold separately)
Easy to connect with spring loaded blocks
Made in Finland
2 year warranty
Product ID (SKU): 20105005
Valmu Lightning Transformer 2000 VA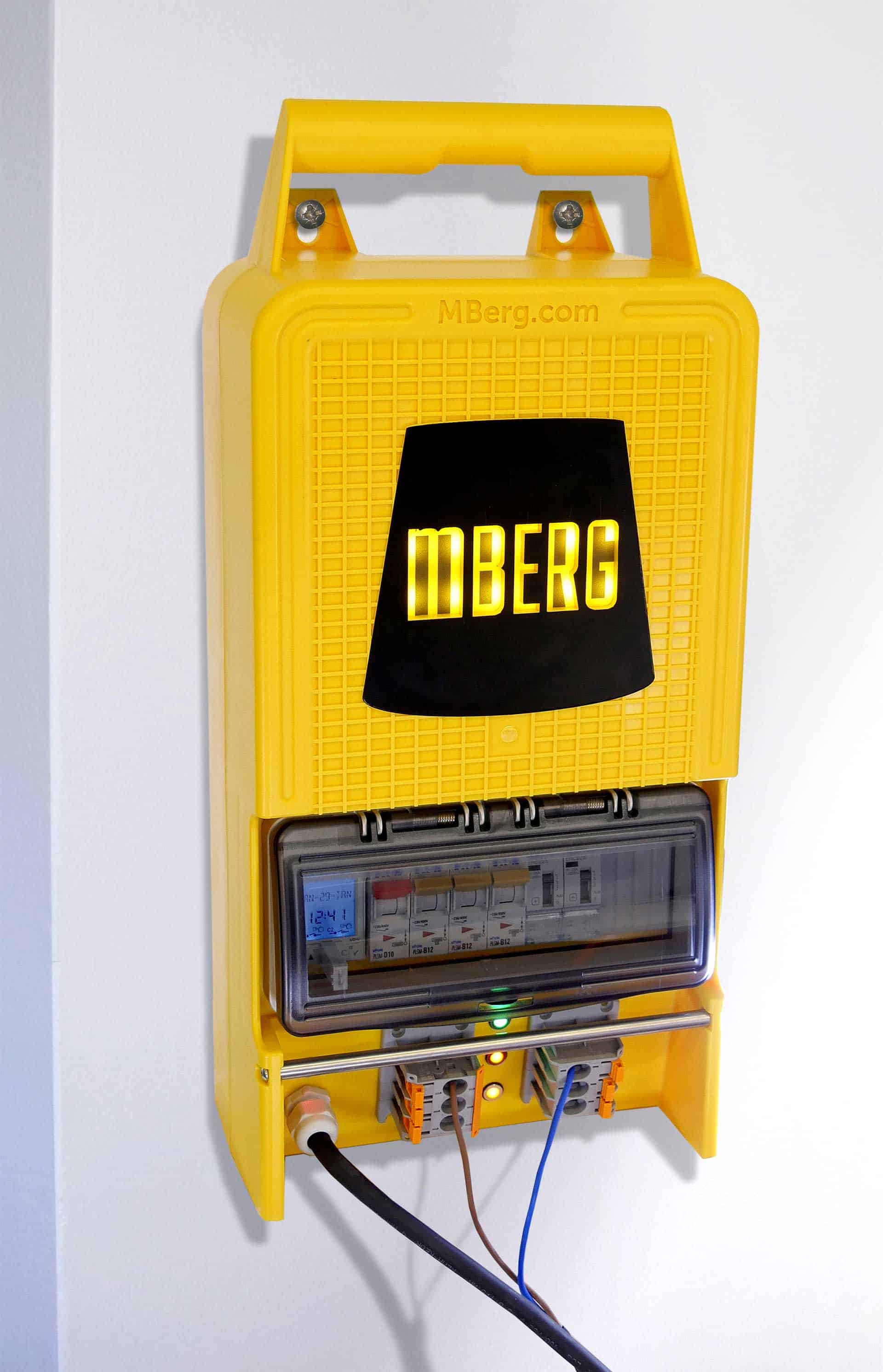 48 V AC Lightning transformer to MBerg® lightning system
Lightweight and easy to operate, superior power/weight ratio
Can be attached straight to a wall
3 circuits á 25 lights, so it is possible to attach 75 MBerg lights to transformer
Each circuit has its own fuse and signal light
Main switch with signal light
Transformer is easy to notice, even in the dark
Bluetooth timer as accessory (sold separately)
Easy to connect with spring loaded blocks
Made in Finland
2 year warranty
Product ID (SKU): 20105007
Cage for lights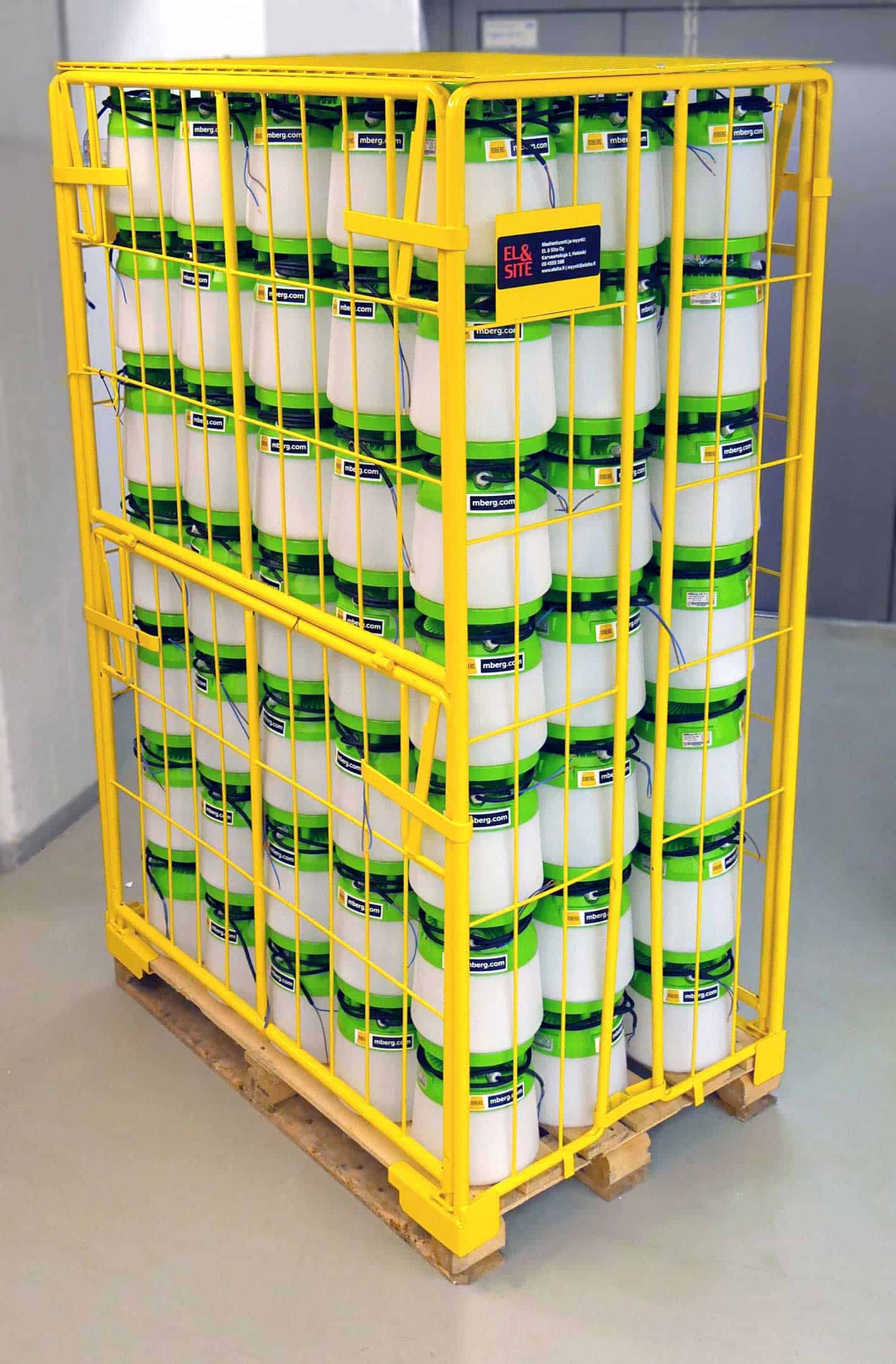 Lockable cage for transferring
Delivery with cage does not bring any package waste to construction site
Everything stays well organised, intact and safe from impact
Cage is durable and good for other use cases, and will last for years
Also available with wheels
Cage is great when construction is done and lightning is being defused
By default, cage includes 100 pcs MBerg® lights but cage can also be bought separately
Product ID (SKU): 20105009